Copyright - [Précédente] [Première page] [Suivante] - Home
---
Livre : [LIVRE194]

Titre : C.A. HARPER, Electronics Packaging and Interconnection Handbook, New York, McGraw-Hill, Inc. 1991, p.210.


Cité dans : [DATA201] Recherche sur l'auteur Charles HARPER.
Cité dans :[SHEET341]
Cité dans :[SHEET144]

Auteur : Charles A. Harper


Lien : SHEET341.HTM - référence [3].
Lien : SHEET144.HTM - référence [18].
Année : 1991
Stockage :
Lien : Harper.jpg - 13 Ko, third edition.
ISBN : 0-07-134745-3
Format : Hardcover, 462 illus., 992p.
Pub_date : February, 2000
Price : $125.00US
Categories : Engineering & Related Disciplines -- Electrical & Electronics Engineering -- Packaging & Fabrication
Publisher : Engineering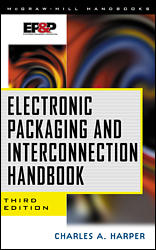 DESCRIPTION :
Covering every aspect of electronic packaging fromdevelopment and design
to manufacturing, facilities, andtesting, Electronic Packaging and
Interconnection Handbook,Third Edition, continues to be the standard
reference in itsfield. Here, in this single information-packed resource
are all the data and guidelines you need for all types and levels of
electronic packages, interconnection technologies, and electronic systems.
No other book treats all of the subjects covered in this handbook in such
an integrated and inter-related manner, a treatment designed to help you
achieve a more reliable, more manufacturable, and more cost-effective
electronic package. Here's everything you need to know about materials,
thermal management, mechanical and thermomechanical stress behavior,
wiring and cabling, soldering and solder technology, integrated circuit
packaging, surface mount technologies, rigid and flexible printed wiring
boards. And with over 60% new material, this third edition brings you
thoroughly up to speed on a new generation of packaging technologies:
single chip packaging...ball gridarrays...chip scale packaging...low-cost
flip chip technologies...direct chip attach, and more.

CONTENTS :
Materials for Electronic Packaging.
Thermal Management in Electronic Packaging.
Mechanical and Thermomechanical Stress Behavior in Electronic Packaging.
Connector and Interconnection Technology.
Wiring and Cabling.
Soldering and Solder Technology.
Integrated Circuit Packaging and Ball Grid Arrays.
Surface Mount Technologies.
Hybrid Microelectronic and Multichip Module Packaging.
Chip Scale Packaging and Direct Chip Attach Technologies.
Rigid and Flexible Printed Wiring Boards.
Packaging of High Speed and Microwave Electronic Systems.
Packaging of High Voltage Electronic Systems.

---

Communications Network Test and Measurement Handbook
Thin Film Technology Handbook
Electronic Packaging, Microelectronics, and Interconnection
Dictionary
Microchip Fabrication: A Practical Guide to Semiconductor Processing
Low Cost Flip Chip Technologies for DCA, WLCSP, and PBGA Assemblies

---

Electronic Packaging, Microelectronics, and Interconnection
Dictionary
Modern Plastics Handbook
High Performance Printed Circuit Boards
Passive Electronic Component Handbook
Handbook of Plastics, Elastomers, and Composites
---
Mise à jour le lundi 25 février 2019 à 15 h 33 - E-mail : thierry.lequeu@gmail.com
Cette page a été produite par le programme TXT2HTM.EXE, version 10.7.3 du 27 décembre 2018.
Les informations contenues dans cette page sont à usage strict de Thierry LEQUEU et ne doivent être utilisées ou copiées par un tiers.
Powered by www.google.fr, www.e-kart.fr, l'atelier d'Aurélie - Coiffure mixte et barbier, La Boutique Kit Elec Shop and www.lequeu.fr.