Copyright - [Précédente] [Première page] [Suivante] - Home
---
Fiche : [LIVRE200]

Titre : D. BROEK, Elementary Engineering Fracture Mechanics, June 1982, Martinus Nijhoff Publishers, 524 pages.


Cité dans :[SHEET333]
Cité dans :[THESE090]
Cité dans :[PAP370]

Auteur : David BROEK - Fracturesearch Inc. Galena, OH


Stockage : Bibliothèque LMP
Inventaire : 2000 xx / LMP
No-Fiche : LMP00-36a
Date_d'achat : 21 décembre 2000
Prix_HT : 1686.49 F


Lien : SHEET333.HTM#Bibliographie
Année : 1978
Editeur : Sijthoff & Noordhoff


Info : Martinus Nijhoff Publishers, Dordrecht
ISBN : 90-247-2580-1
Date : June 1982
Pages : 1 524
Lien : BROEK.jpg - image, 20 Ko.
Info : Paperback, ISBN 90-247-2656-5 ; June 1982, 524 pp.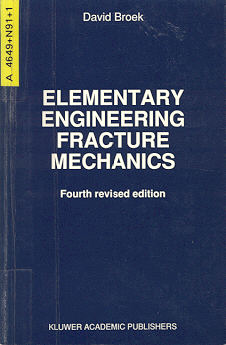 The use of this volume as a textbook has increased during recent years. In response to numerous requests for problems and solutions from teachers, this new edition features a Chapter 18, with 71 problems and solutions.

Although some readers consider the text elementary, many others insist that it is not. For the latter readers, the author has expanded Chapter 1, so that the discussion of many details in Chapters 3 through 9 can be skipped if desired. Readers who are really looking for the very elementary fracture mechanics, and teachers wanting to present a course covering the fundamentals only, can confine themselves to Chapters 1, 2, 7, 8, 10, 12, 15, 17 and 18.

With the introduction of J-estimation schemes, the usefulness of elastic-plastic fracture mechanics has improved. For this reason Chapter 15 has been expanded with a discussion of the application of such schemes. Chapter 13 has also been expanded.

However, the book remains faithful to the principle of presenting only those fracture mechanics techniques that are useful for technical application, and showing how practical problems are solved. Advanced academic fracture mechanics not (yet) of practical use have been omitted on purpose.

Lien : BROEK.txt - Recherche : sur le site http://kapis.www.wkap.nl/
Results : Your query: broek within Author in Books matched : 11 entries
---
Mise à jour le lundi 25 février 2019 à 15 h 33 - E-mail : thierry.lequeu@gmail.com
Cette page a été produite par le programme TXT2HTM.EXE, version 10.7.3 du 27 décembre 2018.
Les informations contenues dans cette page sont à usage strict de Thierry LEQUEU et ne doivent être utilisées ou copiées par un tiers.
Powered by www.google.fr, www.e-kart.fr, l'atelier d'Aurélie - Coiffure mixte et barbier, La Boutique Kit Elec Shop and www.lequeu.fr.