Copyright - [Précédente] [Première page] [Suivante] - Home
---
Livre : [LIVRE284]

Titre : C. HYMOWITZ, B. HALAL Power Specialist's App Note Book, Intusoft, www.intusoft.com , février 2002.


Cité dans : [DIV292]  T. LEQUEU, Informations diverses sur la simulation et conception en électronique de puissance, novembre 2019.

Editor : Charles Hymowitz
Editor : Bill Halal
Auteur : Christophe BASSO, consultant, Sinard, France
Auteur : Charles Hymowitz, Intusoft, San Pedro, CA USA, charles@intusoft.com
Auteur : Lawrence Meares, Intusoft, San Pedro, CA USA
Auteur : Harry H. Dill, Deep Creek Technologies, Inc. Annapolis, MD USA, Testdesigner@compuserve.com
Auteur : A. F. Petrie, Independent Consultant, 7 W. Lillian Ave., Arlington Heights, IL USA
Auteur : Mike Penberth, Technology Sources, NewMarket Suffolk, U.K.
Auteur : Martin O'Hara, Motorola Automotive and Industrial Electronics Group, Stotfold Hitchin Herts. U.K.
Auteur : Kyle Bratton, Naval Aviation Depot, Cherry Point NC USA
Auteur : Chris Sparr, Naval Aviation Depot, Cherry Point NC USA
Auteur : Lloyd Pitzen, CCI Incorporated Arlington, VA USA


Adresse : INTUSOFT - P.O.Box 710 - San Pedro, Ca. 90733-0710
Tel : (310) 833-0710
Fax : (310) 833-9658
Web : http://www.intusoft.com
Lien : mailto:info@intusoft.com
Lien : PSBOOK.pdf - 171 pages, 3391 Ko.


Vers : Table Of Contents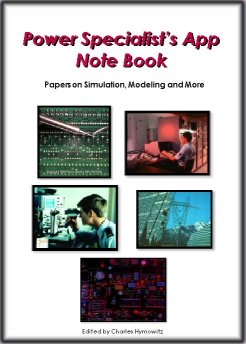 ---

Vers : Switched Mode Power Supply Design
Average simulations of FLYBACK converters with SPICE3 5
A Tutorial Introduction to Simulating Current Mode Power Stages 17
Write your own generic SPICE Power Supplies controller models 24
Keep your Switch Mode Supply stable with a Critical-Mode Controller 33
Exploring SMPS Designs Using IsSpice 40
Average Models For Switching Converter Design 48
Simulating SMPS Designs 51
SSDI Diode Rectifier Models 56
High Efficiency Step-Down Converter 57
IsSpice4 Scripting Gives You More Power 58
Magnetics Design and Modeling
Designing a 12.5W 50kHz Flyback Transformer 62
Designing a 50W Forward Converter Transformer With Magnetics Designer 65
Signal Generators
IsSpice4 introduces a dead-time in your bridge simulations 72
Three Phase Generator 74
Simulating Pulse Code Modulation 76
Modeling For Power Electronics
A Spice Model For TRIACs 80
A Spice Model For IGBTs 84
SPICE 3 Models Constant Power Loads 90
Simulating Circuits With SCRs 91
Power Schottky and Soft Recovery Diodes 96
Spark Gap Modeling 103
SPICE Simulates A Fluorescent Lamp 108
Sidactor Modeling 112
Transformer and Saturable Core Modeling 114
Modeling Nonlinear Magnetics 120
Current Limited Power Supply 126
Macro Modeling Low Power DC-DC Converters 127
Modeling Non-Ideal Inductors in SPICE 131
Motor and Relay Modeling Modeling A Relay 136
New SPICE Features Aid Motor Simulation 141
Test Program Development and Failure Analysis for SMPS
Automating Analog Test Design 145
Simulation measurements vs. Real world test equipment 150
New Techniques for Fault Diagnosis and Isolation of Switched Mode Power Supplies 152
Application of Analog & Mixed Signal
Simulation Techniques to the Synthesis and Sequencing of Diagnostic Tests 163

---

Author : Christophe BASSO, consultant, Sinard, France
Author : Charles Hymowitz, Intusoft
Author : Larry Meares, Intusoft
Author : Scott Frankel, Analytical Engineering Services
Author : Steve Sandler, Analytical Engineering Services


Average simulations of FLYBACK converters with SPICE3
Auteur : Christophe BASSO
Date : May 1996
References : 10
[1] : R. D. MIDDLEBROOK and S. CUK, " A general Unified Approach to Modeling Switching Converter Power Stages ", IEEE PESC, 1976 Record, pp 18-34
[2] : R. KELLER, "Closed Loop Testing and Computer Analysis Aid Design Of Control Systems ", Electronic Design, November 22, 1978, pp 132-138
[3] : V. BELLO, "Circuit Simulation of Switching Regulators Us-ing HSPICE ", META-SOFTWARE e-mail: DrVGB@AOL.COM
[4] : V. VORPERIAN, "Simplified Analysis of PWM Converters Using The Model of The PWM Switch, Parts I (CCM) and II (DCM) ", Transactions on Aerospace and Electronics Systems, Vol. 26, N°3, May 1990
[5] : S. SANDLER, "SMPS Simulations with SPICE3 ", McGraw Hill, e-mail: ssandler@aeng.COM
[6] : D. CALDWELL, "Techniques Let You Write General Purpose SPICE Models ", EDN September 6, 1991
[7] : L. DIXON, "SPICE Simulations of Switching Power Supply Performances ", UNITRODE Power Supply Design Seminar, SEM-800, e-mail: 71045.1206@COMPUSERVE.COM
[8] : Power Integration Data-Book, AN-6 and AN-8, "SPICE Mod-eling for Voltage-Mode Flyback Power Supplies " (DCM and CCM)
[9] : L. DIXON, "Closing the Feedback Loop, appendix A, B and C ", UNITRODE Power Supply Design Seminar, SEM-500
[10] : Sam BEN-YAAKOV, "Average Simulation of PWM Converters by Direct Implementation of Behavioral Relationships", IEEE Applied Power Electronics Conference (APEC'93), pp 510-516, e-mail: SBY@BGUEE.BGU.AC.IL


  [1] :  [ART270]  R.D. MIDDLEBROOK, S. CUK, A general unified approach to modelling switching converter power stages, IEEE Power Electronic Specialists Conference, 1976, pp. 18-34.

---
Mise à jour le lundi 10 avril 2023 à 18 h 52 - E-mail : thierry.lequeu@gmail.com
Cette page a été produite par le programme TXT2HTM.EXE, version 10.7.3 du 27 décembre 2018.
Les informations contenues dans cette page sont à usage strict de Thierry LEQUEU et ne doivent être utilisées ou copiées par un tiers.
Powered by www.google.fr, www.e-kart.fr, l'atelier d'Aurélie - Coiffure mixte et barbier, La Boutique Kit Elec Shop and www.lequeu.fr.