Copyright - [Précédente] [Première page] [Suivante] - Home
---
Fiche : [LIVRE033]

Titre : S.M. SZE, Modern semiconducteurs device physics, Willey-interscience, Nov 1997.


Cité dans :[99DIV104]
Cité dans :[SHEET275]
Cité dans :[LIVRE245] S.M. SZE, Physics of Semiconductor Devices, 2nd Edition, Willey-interscience, 1981.

Auteur : S. M. Sze, National Chiao Tung Univ.


Stockage : Bibliothèque LMP
Mots_clés : électronique de puissance, silicium
Info. : silicium, LMP98-02, Chapter 4 Power devices : B. JAYANT BALIGA
Info. : 2nd edition New York Wiley 1981, "Physics of semiconducteurs device ".


Référence : 9801/LMP
Date_d'achat : 05-Jan-98
Prix : 598.86 F


Année : Nov 1997
Site : http://www.wiley.com/
Site : http://www.interscience.wiley.com/
ISBN : 0-471-15237-4
Price : GB£71.50
Pages : 1 556
Imprint : Wiley-Interscience
Lien : SZEWiley.htm - 10 Ko, recherche du 26 février 2001.


Vers : Informations
Vers : Résumé
Vers : Bibliographie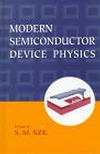 ---

An in-depth, up-to-date presentation of the physics and operational principles of all modern semiconductor devices.
The companion volume to Dr. Sze's classic Physics of Semiconductor Devices, Modern Semiconductor Device Physics covers all
the significant advances in the field over the past decade. To provide the most authoritative, state-of-the-art information
on this rapidly developing technology, Dr. Sze has gathered the contributions of world-renowned experts in each area.
Principal topics include bipolar transistors, compound-semiconductor field-effect-transistors, MOSFET and related devices,
power devices, quantum-effect and hot-electron devices, active microwave diodes, high-speed photonic devices, and solar cells.


Supported by hundreds of illustrations and references and a problem set at the end of each chapter, Modern Semiconductor
Device Physics is the essential text/reference for electrical engineers, physicists, material scientists, and graduate
students actively working in microelectronics and related fields.


Subject : Electrical & Electronics Engineering / Circuit Theory & Design / VLSI

---

Bipolar Transistors (P. Asbeck).
Compound-Semiconductor Field-Effect Transistors (M. Shur & T. Fjeldly).
MOSFETs and Related Devices (S. Hillenius).
Power Devices (B. Baliga).
Quantum-Effect and Hot-Electron Devices (S. Luryi & A. Zaslavsky).
Active Microwave Diodes (H. Eisele & G. Haddad).
High-Speed Photonic Devices (T. Lee & S. Chandrasekhar).
Solar Cells (M. Green).
Appendices.
Index.

---

  [1] : [LIVRE015] B.J. BALIGA, Power Semiconductor devices, 1996.

---
Mise à jour le lundi 25 février 2019 à 15 h 33 - E-mail : thierry.lequeu@gmail.com
Cette page a été produite par le programme TXT2HTM.EXE, version 10.7.3 du 27 décembre 2018.
Les informations contenues dans cette page sont à usage strict de Thierry LEQUEU et ne doivent être utilisées ou copiées par un tiers.
Powered by www.google.fr, www.e-kart.fr, l'atelier d'Aurélie - Coiffure mixte et barbier, La Boutique Kit Elec Shop and www.lequeu.fr.