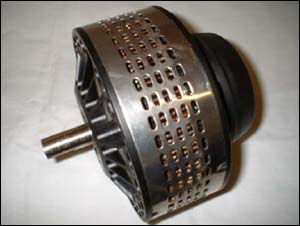 Overview
The LMC 170 is an Axial Gap D.C brush motor suitable for traction and industrial applications including, compressors, sweepers, mopeds, golf carts and pumps. The LMC 170 is available in 126 and 127 strip armatures with either single or double magnets.
Features
High Efficiency (up to 90%)
Light Weight (8.5 kilo's)
Simple Electronic control
Long Brush Life
Interchangeable Shaft
Rugged Construction
CE Marked
IP20 Rating
Available from 12 to 48V
Speed proportional to voltage
Dimensions (mm)


Requires Adobe Reader - download [ here ] link opens in a new window
Electrical Properties
An Inductance in the order of 31.7µH.
An Armature Resistance of 50m?.
Note! Due to the low inductance of the motor some controllers may require a series choke if a high starting torque is required. For further details and any other technical enquiries please contact L.M.C or your authorised distributor
These are a few examples of the performance of this motor



Each link opens an Excel Spreadsheet in a new window