Copyright - [Précédente] [Première page]
---
Livre : [LIVRE451]

Titre : M. TOLL, DIY Lithium Batteries: How to Build Your Own Battery Packs, Toll Publishing, March 24, 2017, 136 pages.


Cité dans : [DIV407]  T. LEQUEU, Projet 03 - KARTING / Etude de la motorisation électrique d'un KARTING, documentation technique du projet, Association e-Kart, octobre 2019.
Cité dans : [DATA514] S. JACQUES, T. LEQUEU, A. SIVERT, Quelques ouvrages en anglais sur le véhicule électrique, octobre 2019.

Auteur : Micah Toll


Lien : https://www.amazon.fr/DIY-Lithium-Batteries-Build-Battery/dp/0989906701/
Pages : 1 - 136
Editeur : Toll Publishing
Langue : Anglais
ISBN-10 : 0989906701
ISBN-13 : 978-0989906708
Taille : 21,6 x 0,8 x 27,9 cm
Date : 24 mars 2017


Vers : Présentation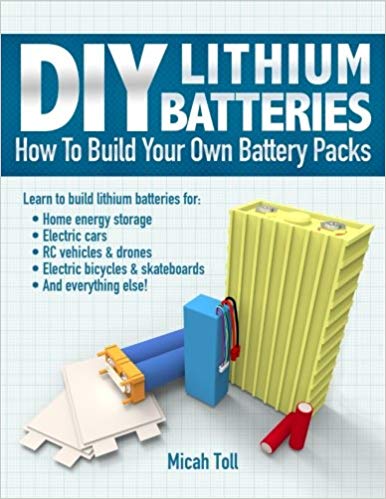 ---

Are you a hands on person?
Do you prefer making things yourself?
Are you working on a project that requires lithium batteries?
If so, then this book is for you!
We'll cover everything you need to know about lithium batteries.
From choosing the right cells to designing a battery pack and building it yourself, this book includes all the steps for building safe, effective custom lithium battery packs.
---
Mise à jour le vendredi 3 janvier 2020 à 09 h 09 - E-mail : thierry.lequeu@gmail.com
Cette page a été produite par le programme TXT2HTM.EXE, version 10.7.3 du 27 décembre 2018.
Les informations contenues dans cette page sont à usage strict de Thierry LEQUEU et ne doivent être utilisées ou copiées par un tiers.
Powered by www.google.fr, www.e-kart.fr, l'atelier d'Aurélie - Coiffure mixte et barbier, La Boutique Kit Elec Shop and www.lequeu.fr.