Copyright - [Précédente] [Première page] [Suivante] - Home
---
Fiche : [DATA150]

Titre : LT1615/LT1615-1, Micropower Step-Up DC/DC Converters in SOT-23, Linear Technology.


Cité dans : [DIV126]  T. LEQUEU, Librairie des fichiers PDF de composants, janvier 2019.
Cité dans :[REVUE149] ELEKTOR, revue N° 265/266, juillet-août 2000.
Cité dans : [DIV226]  POWER INTEGRATION INC, TinySwitch & TOPSwitch Family, avril 2004.

Site_Web :
http://www.linear-tech.com
Lien : LT1615.pdf - 8 pages, 105 Ko, LT1615, LT1615-1, Micropower Step-Up DC/DC Converters in SOT-23.
Lien : LT1615a.jpg - image, 29 Ko.
Lien : DIV126.HTM#Linear_Technology

Vers : FEATURES
Vers : DESCRIPTION
Vers : APPLICATIONS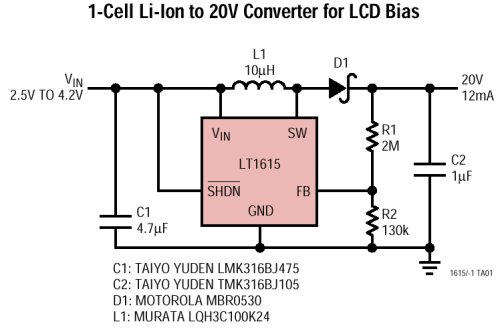 ---

Low Quiescent Current:
20µA in Active Mode
<1µA in Shutdown Mode
Operates with VIN as Low as 1V
Low VCESAT Switch: 250mV at 300mA
Tiny 5-Lead SOT-23 Package
Uses Small Surface Mount Components
High Output Voltage: Up to 34V

---

The LT®1615/LT1615-1 are micropower step-up DC/DC
converters in a 5-lead SOT-23 package. The LT1615 is
designed for higher power systems with a 350mA current
limit and an input voltage range of 1.2V to 15V, whereas
the LT1615-1 is intended for lower power and single-cell
applications with a 100mA current limit and an extended
input voltage range of 1V to 15V. Otherwise, the two
devices are functionally equivalent. Both devices feature a
quiescent current of only 20µA at no load, which further
reduces to 0.5µA in shutdown. A current limited, fixed
off-time control scheme conserves operating current,
resulting in high efficiency over a broad range of load
current. The 36V switch allows high voltage outputs up to
34V to be easily generated in a simple boost topology
without the use of costly transformers. The LT1615's low
off-time of 400ns permits the use of tiny, low profile
inductors and capacitors to minimize footprint and cost in
space-conscious portable applications.

---

LCD Bias
Handheld Computers
Battery Backup
Digital Cameras
---
Mise à jour le lundi 25 février 2019 à 15 h 32 - E-mail : thierry.lequeu@gmail.com
Cette page a été produite par le programme TXT2HTM.EXE, version 10.7.3 du 27 décembre 2018.
Les informations contenues dans cette page sont à usage strict de Thierry LEQUEU et ne doivent être utilisées ou copiées par un tiers.
Powered by www.google.fr, www.e-kart.fr, l'atelier d'Aurélie - Coiffure mixte et barbier, La Boutique Kit Elec Shop and www.lequeu.fr.